Flavors

Elegant Flavors

Because of our commitment to the individuality of each event, we're able to create custom flavors, including Gluten Free, that satisfy everyone's desires. If you need some help deciding, here are some samples of our most popular cakes and filling combinations: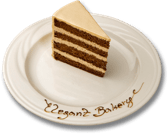 Rich chocolate cake soaked with freshly brewed Columbian espresso giving this dessert its indulgent taste. Cappuccino mousse made with warm Chocolate Ganache fills the layers. Coffee lover's top choice.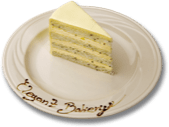 Classic European cake. Moist citrus poppy-seed accented with fresh juice and zest, gives this cake a refreshing flavor. This cake is complimented with the subtle taste of our Caribbean Lemon Bavarian.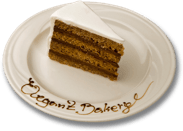 An elegant fragrant spice cake with autumn's savory grounded spices: cinnamon, nutmeg, cloves and ginger. Filled with our decadent apricot marmalade and dark chocolate Ganache . Autumn season's top choice.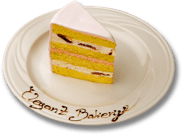 This elegant vanilla bean cake is layered with fresh berries, strawberry mousse, and St. Honore Cream.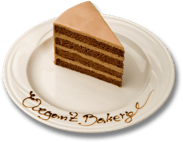 Our light chocolate genoise soaked with raspberry sauce filled with chocolate Parisieune mousse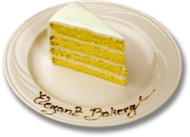 Vanilla bean cake infused with Pear Liquor. The cake layers are filled with light champagne and pistachio mousse.
Vanilla bean cake with marble dark chocolate cake filled with roasted hazelnut, and blended with Swiss Courevture Mousse.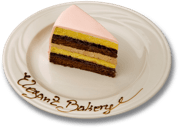 VIII
Black and White Raspberry
Alternating layers of dark chocolate and vanilla-bean cake soaked with Chambord liqueur and layered with fresh raspberry mousse..